The Raiders had nine athletes sign national letters of intent, while North Andover had seven signees.
The Raiders had nine athletes sign national letters of intent, while North Andover had seven signees.
It was a banner National Letter of Intent Signing Day for athletes across the Merrimack Valley Conference.
So far, through Nov. 20, nine of the 11 MVC schools have announced NLI commitments with 34 total athletes committing.
Here's a school-by-school look at the stars who have committed to play college sports.
ANDOVER
The Golden Warriors held their NLI event on Nov. 20, the last day of the fall NLI window and had six signees and an impressive list of schools.
Shamus Florio, Yale University Football
John Marshall, Boston University Lacrosse
Emily Clements, Brown University Swim
Mac Lee, Boston College Golf
Teagen Gobiel, Franklin Pierce Lacrosse
Aleah Davidsen, Brown University Crew
BILLERICA
Nolan Houlihan, Hofstra Lacrosse
Ryan Murphy, Maryland Baseball
Garrett Murphy, UMass Lowell Lacrosse
Hannah Doherty, UMass Lowell Track
CENTRAL CATHOLIC
Left-Right – Nadeshka Bridgewater '20, Olivia DeLonais '20, Kerrigan Hemp '20, Ciera Licare '20, Caroline Affolter '20, Kelsey Seamans '20, Abigail Sullivan '20, Layal Khartabil '20, and Madison DiPietro '20.
Nadeshka Bridgewater, Merrimack College Basketball
Olivia DeLonais, Franklin Pierce Lacrosse
Kerrigan Hemp, University of Denver Swimming
Ciera Licare, University of Vermont Lacrosse
Caroline Affolter, Bentley Lacrosse
Kelsey Seamans, Southern New Hampshire University Cross Country
Abigail Sullivan, U.S. Naval Academy Swimming
Layal Khartabil, UMass Amherst Soccer
Maddie DiPietro, Boston University Field Hockey
CHELMSFORD
Shannon Walsh, Saint Anselm Field Hockey
Christian Gastonguay, UMASS Lowell Lacrosse
DRACUT
Brendan Davis, Stonehill College Soccer
LOWELL
Asaliah Mirambeaux, UMass Lowell Cross Country/Track
Richmond Kwaateng, UConn Track (with Lowell Track teammates)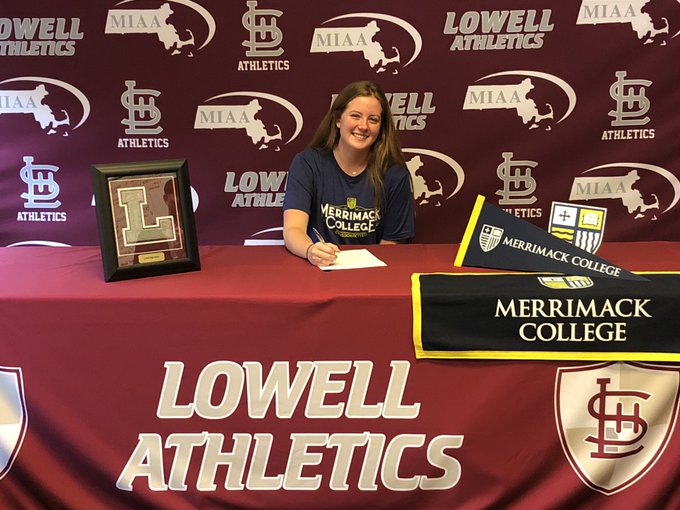 Morgan Desroches, Merrimack College, Crew
METHUEN
Claudia Crowe, Stonehill College Field Hockey
Katy Dorandi, Franklin Pierce Lacrosse
Ian Gallagher, American International College Baseball
NORTH ANDOVER
Alison Ferullo, Saint Anselm Lacrosse
Emma Gordon, Sacred Heart Field Hockey
Olivia Gotobed, Saint Anselm Soccer
Keegan Hughes, Merrimack College Lacrosse
Lauren O'Connell, Saint Anselm Cross Country
Lexi Rivet, University of Vermont Field Hockey
TEWKSBURY
Ryan Day, American International College Lacrosse
Any we missed? Send your photos and your commitments to Editor Tim Wood at tim@mvcsportstoday.com.
The next signing day to watch for will be December 18, the early commit signing day for football. Feb. 5, 2020 is the regular signing day for football, followed by April 15, 2020, the regular signing day for basketball.
Tim Wood